It took the Covid lockdown to wake me up, it seems. I realised I hadn't written on this page for so long I'd forgotten I had it. Written plenty of other things in the meantime – novels, novellas, scripts, even the odd letter – but my old mother always used to say I was a lazy sod. She was a woman though, and they have a different attitude to work. They do it, we think about it…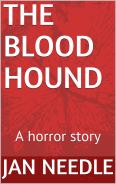 She'd probably be quite pleased that I was moved to do this because I had something to give away, however. Generous was Dot. And she was not cynical enough to realise the freebie was just a way of getting people to remember my existence. (Oh yes she was!)
It's a novella called The Blood Hound, and it's free on Amazon for a couple more days. Not much of a gift, you might think, because it's only 99p for the rest of the time. I priced it so low because a few of my normal prepub readers think it's too unpleasant to inflict on Joe Public. It recounts, in fictional form, the true story of a barber in Blackburn, Lancs, who raped and murdered a seven-year-old neighbour called Emily Holland, whose grave and memorial still exist in the local cemetery. It is a gruesome tale, and a weirdly troubling one. The governor of the jail where William Fish was hanged described him as the gentlest prisoner he had ever known.
I, obviously, think the unpleasantness is a vital part of the book. I've always found it worrying how black and white murders come out in the wash of fiction, and I wanted to contrast the genuine vileness of Fish's act with the fact that he was a loved and loving father and husband. He said himself he did no know why he had done it – he had 'not intended to' – and his wife said she had forgiven him, whatever that might mean.
But the fact remains it is unpleasant. And maybe the people who hate it are right. It has many vociferous supporters, however, and maybe they are right as well. What? Is this possible? Who knows.
Anyway it's up on Kindle, it's free if you get your finger out, and it's also available in paperback from the same Amazon site. The Scottish writer Brendan Gisby described it as 'the finest piece of reportage since Capote's In Cold Blood.' I hope he's right.